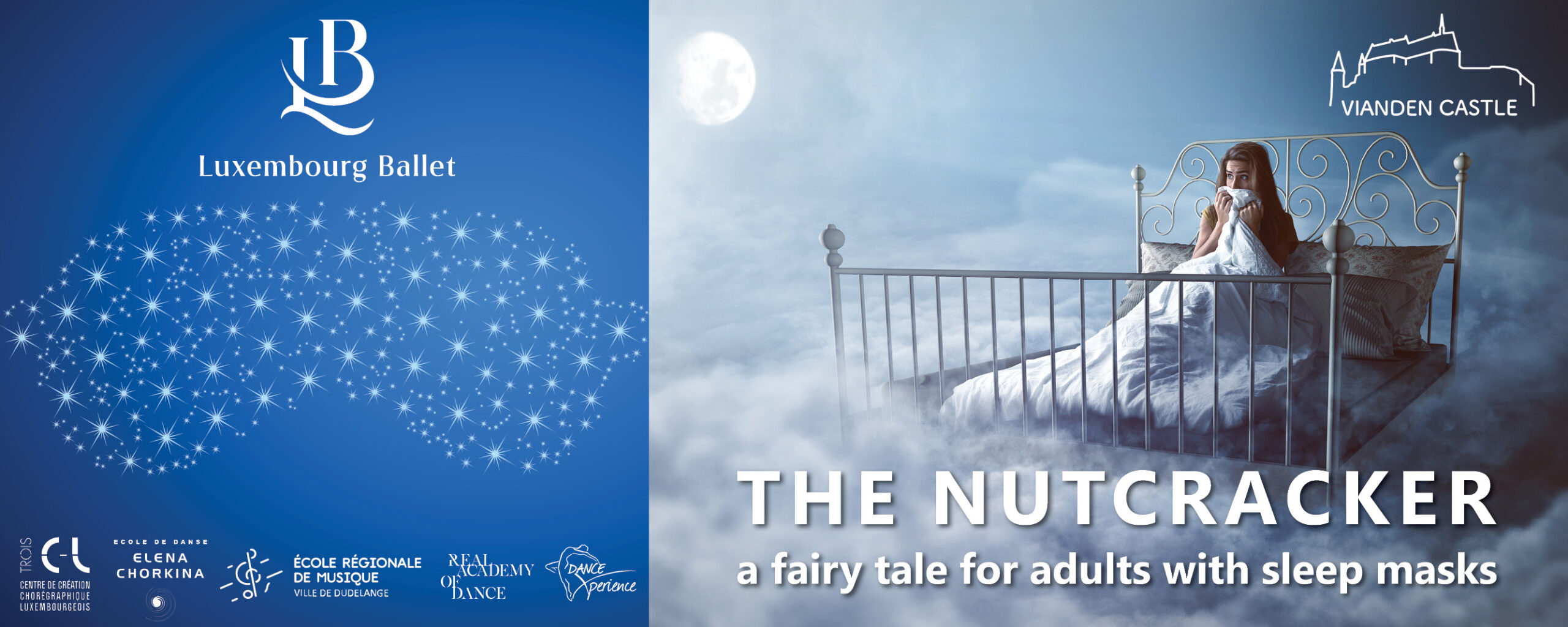 The Nutcracker: a fairy tale for adults with sleep masks
Saturday, the 11th of December at 17 o'clock in the Vic. Abens hall
Beautiful opera voices meet world-class dance in a story rewinding the years back to childhood.
Soprano: Hélène Bernardy, Conservatoire Ville de Luxembourg
Tenor: Marc Dostert, Philharmony Luxembourg
Piano: Tatsiana Molakava, Conservatoire Ville de Luxembourg
Dance: Victoria Tvardovskaya and Susanne Wessel, Luxembourg Ballet
Special guest: Uladzimir Ivanou, Czech National Opera
Director and choreographer: Volha Kastsel, Luxembourg Ballet
Whether at the theatre or at the movies, at the traditional Christmas market or on our own Christmas tree, the annual appearance of the nutcracker seems omnipresent. As central character in the Christmas fairy tale Nutcracker and Mouse King by E.T.A. Hoffmann, the nutcracker gained in popularity in the early 19th Century and has been an integral part of the Advent symbolism ever since.
Hoffmann paints a dream world for us with a literary virtuosity that we enjoy with all our senses: artefacts made of sugar almonds and raisins, streams and lakes made of honey and almond milk, fountain made of lemonade, houses and castles made of gingerbread and marzipan, jam groves with wonderfully fragrant trees. It is the dream world that we seek to recreate every year through magically decorated showcases, markets, streets, walls and trees.
What does this dream world stand for? It is the world of recurring longing. Longing for the time when mere dreams dominated all our possessions.
Just like Hoffmann's character, we encountered our own hard nut Krakatuk as young dreamers. All it took us to crack it was to keep dreaming and persevere. But our success would cast a spell over us, turning us into nutcrackers captured in a relentless struggle with the seven-headed time units of our everyday life. This takes so much strength that our dream world gradually shrinks, yet, the greater becomes the longing to rewind. Then we realize that dreaming never ends.
The Nutcracker: a fairy tale for adults with sleep masks is an unusual theater evening where dance, music and opera singing melt together. We invite our guests to join us in a magic ritual in which we let the world of our dreams and memories light up again. The evening takes place in a very special place. A place where our cultural heritage can be felt, touched, tangibly and authentically experienced. A place that lets us immerse ourselves in the magic of history. A fairytale place that can tell stories. About counts, kings and … nutcrackers.
Tickets: