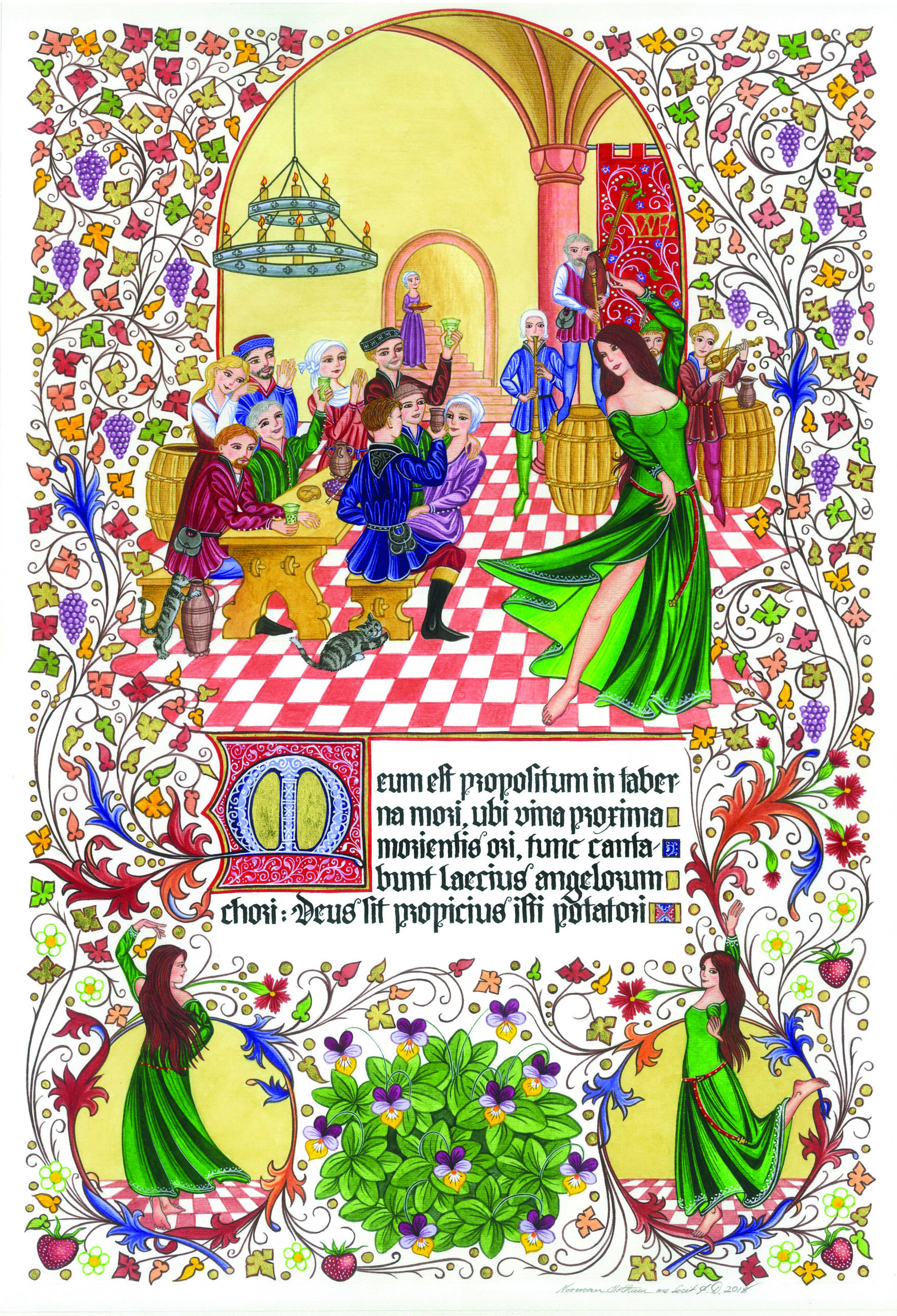 Musik und Tanz im Mittelalter
Die Top Fünf der mittelalterlichen Musikszene
Unsere kleine Ausstellung zielt nicht darauf ab den Bereich der mittelalterlichen Musik erschöpfend und auf einem wissenschaftlichen Niveau zu behandeln.
Vielmehr soll sie die bekanntesten, deutschsprachigen Protagonisten der mittelalterlichen Musik in ihrem geschichtlichen Lebensumfeld stichpunktartig darstellen (natürlich durch abgesicherte Forschungsergebnisse). 
Mit Hilfe von Fragen und Antworten, soll es dem Betrachter ermöglicht werden die Quellen, seien es nun einzelne belegbare Personen oder aber Sammelhandschriften, in ihrem jeweiligen zeitlichen Kolorit wahrzunehmen. Die Gestaltung der Vitrinen verweist auf charakteristische Details oder denkbare Situationen in denen unsere "Top Fünf" ihre Musik schufen.
Zu unseren Stars gehören:
Hildegard von Bingen                       Ende 11. bis 2. Hälfte 12. Jhdt.
Carmina Burana (Sammelhandschrift)                  13. Jahrhundert
Manessische Liederhandschrift                   1. Hälfte des 14. Jhdts.
Mönch von Salzburg                         Anfang bis Ende des 14. Jhdts.
Oswald von Wolkenstein                       Ende 14. bis Mitte15. Jhdt.
In einer sechsten Vitrine in der Raummitte, wird ein Faksimile der in der Heidelberger Universitätsbibliothek aufbewahrten Manessischen Liederhandschrift gezeigt.
Es handelt sich dabei um eines von weltweit 900 existierenden Exemplaren, das in den 1970er Jahren im Insel Verlag herausgegeben wurde.
---

English Version
The medieval music scene's Top Five
Our little exhibition does not aim to cover the field of medieval music in a comprehensive and all scientific way.
We rather intended to present the most famous German-speaking protagonists of medieval music in their historical environment (of course with verified research results). 
With the help of questions and answers, the visitors should be enabled to perceive the sources, be they tangible persons or medieval song collections, in the respective atmosphere of their time. The design of the show cases refers to characteristic details or imaginable situations in which our "Top Five" created their music. 
Starring:
Hildegard von Bingen,  late 11th to 2nd half of the 12th century
Carmina Burana,           a 13th century song and poem collection
Codex Manesse,          collection of songs and poems / 1st half of  the 14th century
Mönch von Salzburg,           beginning to end of the 14th century
Oswald von Wolkenstein,           end of 14th to mid-15th century
In a sixth display case in the middle of the room, a facsimile of the famous Codex Manesse, nowadays kept in the Heidelberg University Library, is on display.
It is one of 900 existing copies worldwide, which was published in the 1970s by Insel Verlag.